Last week I volunteered ("interned") for the
Cultural Survival
Winter Bazaar. Cultural Survival is a non-profit organization that works to promote the rights, voices and visions of indigenous peoples around the world. They have many bazaars throughout the year two of which are held in Boston and Cambridge around the holiday season. I found out about these bazaars two years ago from my friend Bekka and have done a lot of my holiday shopping there since then. It is a really awesome way to get original holiday gifts while supporting a very worthy cause and you get to chat with interesting people. The only problem is that since they are fair trade the prices are usually out of my reach, and I end up spending way more than I can afford to spend.

This year my roommate let me know that Cultural Survival recruits interns to volunteer at the bazaars and offers them 40% off the merchandise. So on Sunday, December 10th, I boarded a bus at 10:30 am and headed to Hynes Convention center to work from 10:45 to 7 pm and earn my 40% discount. Unfortunately I decided it was a good idea to get very drunk the night before...oops.

I woke up at 5 am asleep on a couch wearing jeans, an underwire bra and a belt. I figured out where I was, my friend Natalie's apartment, took off the bra and belt and fell back asleep. I woke up again at a normal hour and after being poked fun at and ingesting pain killers and water, I took off....Wait, where are my keys? We searched in vain for a while and I was forced to accept that I had left them at the party (why had I even brought them to the party when I wasn't driving?). So my friend Amy drove me to the hosts house (I don't actually know her), I got my keys, and she drove me back to Natalie's apartment. I had not allowed enough time for this excursion, so, I raced to my apartment, threw together a bag of stuff and ran to the bus stop. I got to the Bazaar just in time....

Hmmm....I probably needed to shower, my hair is kinda dirty, I hope it's not smelly....Wait, did I brush my teeth?...oops, at least I didn't throw up last night. Did I put on deodorant?...Oh shit! Oh my God, I totally forgot, Paco peed on my jeans last night!!!

Yup, that's right, I worked for over eight hours with dirty hair, unbrushed teeth, no deodorant, and jeans with Chihuahua pee on them! It's a good thing I was mainly surrounded by hippies.

I performed a few different tasks for the Bazaar. I handed out fliers and kept track of the number of patrons, I assisted people in raffle entry, I held people's shopping bags when they went to the restroom, I checked people's receipts and tallied how they heard about the Bazaar, but surprisingly enough the most enjoyable job was fliering outside.
The flier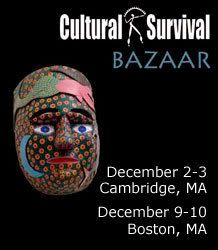 When the beautiful woman with the dreadlocks asked me if I would go outside and hand out fliers to the pedestrians I was a little nervous and wanted to explain to her that based on past experience I knew this would not be the best job for me. But I said "okay", and another girl and I headed out to work the streets together.* At first, I was just really there to keep Emily company, we chatted about school and work and Boston and she made her pitch to passers by and we both held our hands out. She told me it was okay that I wasn't saying anything and that it would get easier once I "found my line"- I highly doubted this. But then, something amazing happened, I found my line: "Handcrafted holiday gifts....they're fair trade!"

I did a good job if I say so myself. I was very upbeat and cheery and got a lot of people to take the little flier and I'd like to believe I convinced at least a handful of people to go to the Bazaar. Emily even commented about how I was doing better than her by the end. When Emily suggested we head back I was kind of sad because I was enjoying the work and the company (she was totally interesting, really into consignment clothing and a Second Time Around employee).

Overall, it was a great day. I bought over a hundred dollars in merchandise with a seventy dollar discount. I got to see "Traditional Indian dancing by Hersheta" and I caught some "Traditional Lakota singing and drumming by Tim Swallow, known as Brave Elk- a member of the Teton Lakota band of Crazy Horse". I did good work, I met and talked with interesting and kind people and I even led around a seeing impaired woman and helped her to a cab.

I sent Cultural Survival my resume; I'm hoping they will take me on as a spring intern. If not I'm going to try to find Emily at Second Time around, I feel we should probably be friends.
*I know what you're thinking. Didn't your smelliness scare potential patrons away? No, I had a coat on, I'm thinking in the outdoors you couldn't really tell....I hope....